Walking through an old narrow lane the entrance to Beit Elfarasha is through a door with the design of a butterfly.  The design mimics the butterfly Labyrinth we have on the lobby floor, designed by the international artist Marcia Raff. Leave the street behind you and enter a magical room, with a butterfly labyrinth on the floor, a high Ottoman stone ceiling and a salon that is designed to make you feel welcome and warm. Elements from Morocco, Turkey, Rwanda, Israel and more, combine to create a space where people can come together to relax and for us to offer community events to bring people together.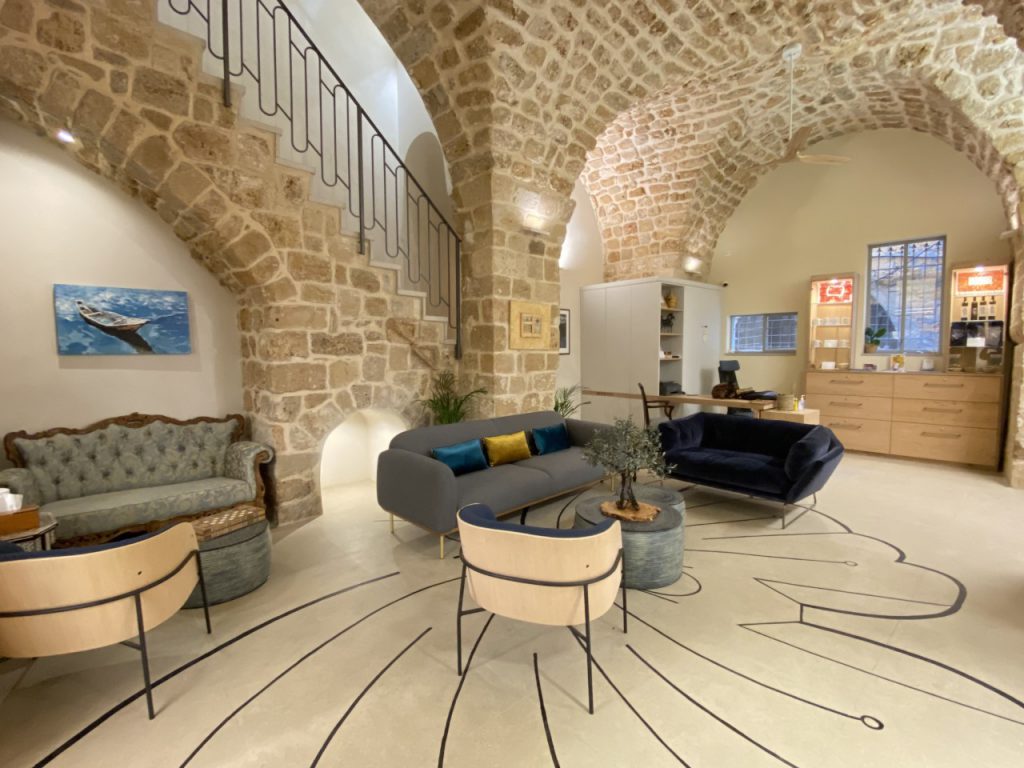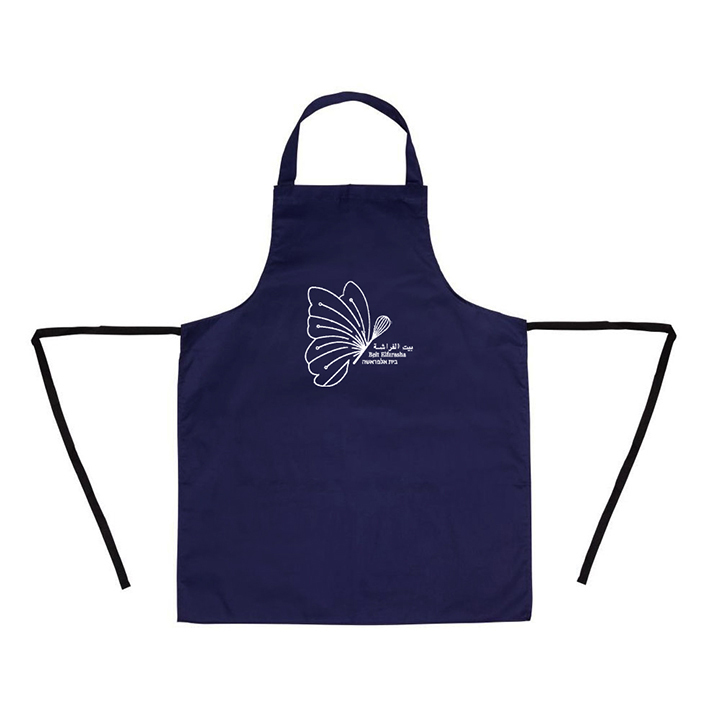 Beit Elfarasha was built to empower the local woman of Akko and to offer cooking workshops for groups of 10-20 people. To enable this, no thought or money was spared in designing a modern kitchen in an historic Ottoman room. The state of the art facility enables efficient learning of local recipes with an intimate experience that will encourage communication and conversation with the local women of Akko. The kitchen is only available for the cooking workshops.
We have carefully chosen a few unique items which help support causes in which we believe.
We sell coffee/tea mugs designed by Mira Awad, the musician, actress and singer.
On top is the word Shalam in Arabic and it becomes Shalom in Hebrew, which shows you visually just how close the Arabic and Hebrew languages are to each other.  During this period of COVID-19, many performing artists have lost their income. We are happy to sell these beautiful, meaningful mugs, which, on the opposite side, also display the Beit Elfarasha logo –– all in an effort to help in some small way, as proceeds go directly to Mira.
We sell top quality Olive Oil from the Sidyanna, located in Kfar Kanna.   https://www.sindyanna.com/,
 Sindyanna of Galilee is a female-led, non-profit organization, which actively promotes the concepts of "business for peace" and "Fair Trade" in Israel. They achieve this by selling Arab producers' olive oil and other premium products in the international marketplace and then channeling the profits back into Arab women's education. Established in 1996, Sindyanna of Galilee is the only certified fair-trade, olive oil producer in Israel, which operates among the country's Arab population – bringing deep functional expertise and a practical approach to deliver real impact. The work they do aims to bridge cultural divides, encourage sustainable agriculture, and support organic farming.  Sidyanna's staff consists of Arab and Jewish women who share a vision of peaceful coexistence, and work towards this goal side by side with skill, care, and a passion for the craft.
The Olive Oil of Sidyanna is also used in our cooking workshops.
Ceramics by the Kamah Center located in Harduf Kibbutz. A special-needs artist handcrafts each bowl. https://www.eng.kamah.org.il/–c47
Aprons with our very own Beit Elfarasha Logo